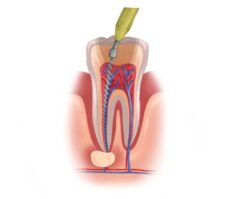 Many patients believe that root canal treatment is painful. While this may have been the case in the distant past due to rudimentary dental techniques and the lack of effective anesthesia, modern root canal therapy is virtually painless. In fact, this restorative treatment alleviates pain while preserving a tooth's natural structure.
Purpose of Root Canal Therapy
If you're at the stage where you need a root canal, that means that an infection has reached deep inside your tooth to compromise your inner tooth pulp. This is the preferred solution to get a tooth back to good health instead of extracting it. Keeping your natural teeth makes eating and speaking easier, helps prevent jawbone deterioration and shifting teeth, and is less expensive than replacing a missing tooth.
A severe tooth infection can often be painful, especially when chewing. During root canal therapy, the infection is treated and the damaged tissue is cleared out. The inside of the tooth is filled with a special material called gutta-percha, then the tooth is sealed and reinforced. You may experience some temporary tenderness, but then your pain will be gone. And your tooth will be preserved!
Modern root canal therapy is different from how it was back in the early days of dentistry. Now we have the convenience of technologically advanced tools, local anesthetic, and dental sedation to make the procedure vastly more comfortable for the patient. If you're receiving root canal treatment from a reputable dental practice, like Blue Valley Smiles, the most you might feel throughout the procedure is some mild pressure.
Restore Your Tooth at Blue Valley Smiles!
If you need a root canal treatment but the fear of pain is stopping you from booking your treatment, please contact Blue Valley Smiles in Overland Park. In addition to our other restorative dental treatments, we provide gentle root canal therapy and would be happy to discuss any concerns that you might have.
Root canal treatment image from Authority Dental under CC 2.0