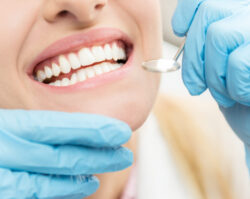 Even if you do a great job of brushing your teeth at home, that doesn't mean you should forgo professional dental cleanings. Professional cleanings are a crucial part of oral healthcare and can help safeguard your smile from cavities, gum disease, and more.
During your dental cleaning, a skilled hygienist will use a scaler and a small mirror to scrape away any plaque and tartar buildup. Key areas they look at are behind the front teeth and the back molars. These areas are commonly missed during regular tooth-brushing.
After removing any plaque and tartar, your hygienist will use a high-powered electric toothbrush and gritty toothpaste to thoroughly brush the teeth. To finish off your cleaning, the hygienist will rinse away any debris left behind from the scaling, buff/shine the teeth to restore their natural pearly sheen, and floss between your teeth.
Benefits of Dental Cleanings
Dental cleanings provide an array of benefits for patients, such as:
Early detection of dental issues – During your dental cleaning, dentists and hygienists will assess your smile to ensure you don't have any dental issues. With regular cleanings, they can catch signs of trouble early on so you can get the treatment you need before it worsens.
Improve overall health – Your oral health is closely linked to your overall health. When your teeth are healthy and strong, you have a reduced risk of developing gum infections, which could otherwise creep into the gum line and spread through the body.
Prevent complex, costly dental treatments – When you're getting regular cleanings and exams, you are less likely to need more complicated, costly treatments. If dental issues are caught early enough, treatments are often simpler and more cost-effective.
Reduce the risk of halitosis (chronic bad breath) – Plaque and tartar buildup, as well as gum disease, can cause bad breath. When teeth aren't professionally cleaned regularly, this bad breath isn't something that can be restored by simply brushing your teeth at home. Chronic halitosis is harder to get rid of, which is why professional cleanings are critical.
Schedule a Cleaning at Blue Valley Smiles!
At Blue Valley Smiles in Overland Park, KS, we offer a full suite of dental services to help patients achieve optimal oral health and confident smiles. We'd love to serve you and your family! Please contact our office to schedule an appointment. We look forward to seeing your smile.