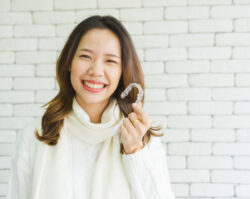 If you're thinking about getting Invisalign or you're already in the process of straightening your smile with these clear aligners, there are a few different things you can do to make your treatment as efficient as possible and avoid delays. Follow these tips so you can complete your treatment on time with as few issues as possible:
Wear Them As Much As Possible
It's critical that you wear your aligners for at least 20-22 hours a day to make sure that your treatment stays on track. While you have the ability to take your Invisalign aligner trays out at any time, that doesn't mean you should get used to removing them for long stretches of time. Really, you should only take them out to eat, drink anything other than water, and to clean your teeth.
Use the Chewies
"Chewies" are little cylindrical, plastic cushions. When you have your aligners in and bite down on these, it helps to make sure the trays are in the optimal position and fit tightly over your teeth. Having trays with a secure fit means your treatment is more likely to progress correctly.
Stick to the Aligner Order
The cool thing about Invisalign aligners is that when you're given a few, you can directly see how the position of your teeth is becoming straighter and straighter since each aligner is slightly different from the one before. It may be tempting to skip ahead to a set of aligners that looks straighter than where you are now, but don't do that. It's important that you follow the treatment plan to limit your discomfort and to maximize its effectiveness.
Looking for more information related to Invisalign treatment? Contact us at Blue Valley Smiles in Overland Park! We offer Invisalign aligner therapy as part of our cosmetic dental services so we're happy to answer any questions you may have.