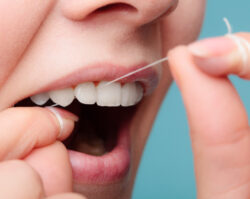 If you brush your teeth twice a day for two minutes each time using a soft-bristled toothbrush but aren't in the habit of flossing every day, now is the time to uplevel your oral hygiene routine!
At every routine checkup, our team will strongly recommend you make flossing a priority if you haven't already. Regular flossing removes plaque and food debris that get trapped between teeth and under your gumline where your toothbrush can't reach.
Here are some of the benefits of flossing your teeth:
Cleans Away Plaque

The oral bacteria in your mouth produce plaque and accumulate into a sticky biofilm as they feed on sugars and starches in the food you eat. Plaque sticks to your teeth, between your teeth, and around your gum line. Plaque that isn't brushed and flossed away will harden into tartar, damage your tooth enamel, irritate your gums, and increase your risk of dental disease.

Can Help Prevent Dental Disease

When plaque collects on your teeth, it starts to wear away on your tooth enamel. Over time, this can lead to cavities. The more plaque on your teeth, the higher your risk for developing cavities. Make flossing a priority and protect your teeth by keeping tooth decay away.

Reduces Bad Breath

Everyone experiences bad breath sometimes. Bad breath is often the result of fermenting food particles trapped between your teeth. Bacteria, cavities, and gum disease can also contribute to bad breath. Flossing every day can remove those trapped food particles and reduce your risk of dental disease, keeping your breath fresh.
It's simple to create a good flossing habit – all you need is a couple minutes each day and the right tools, whether that be a water flosser, floss picks, or just regular dental floss.
To ask our Blue Valley Smiles team any questions about flossing or to schedule an appointment, please contact our office today!