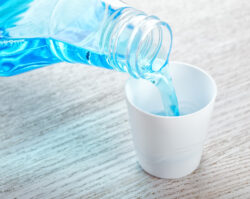 Mouthwash is a minty mouth rinse that comes in many different formulations. While mouthwash is not a necessary product to maintain good oral health, it does have some benefits when combined with daily brushing and flossing and routine dental cleanings and checkups.
The ingredients in mouthwash can help reduce bad breath, fight plaque buildup, minimize the risk of cavities, whiten teeth, soothe canker sores, and/or hydrate dry mouth. We recommend speaking with your dentist to determine which type and brand are best suited for your smile. Not all mouthwash is created equally, so make sure you do your research and seek counsel from your dentist! But in general, most patients over 12 years of age would benefit from rinsing with an alcohol-free, anti-gingivitis mouthwash.
Tips for Using Mouthwash
If you choose to use mouthwash, here are some helpful tips to ensure you are properly using it:
Don't swallow mouthwash!
Keep all mouthwash out of reach of young children. Children do not need to use mouthwash until age 12, unless directed otherwise by their dentist.
Don't try to mask chronic bad breath with mouthwash. There is likely an underlying dental issue that needs to be addressed by your dentist.
Don't use mouthwash as a substitute for brushing and flossing.
Swishing and gargling with mouthwash after eating can help prevent food debris and bacteria from building up between your teeth and under your gums.
If you desire, mouthwash can be added to the reservoir of your water flosser. Just be sure to clean it out with fresh water afterwards to keep your gadget in good condition.
More Questions? We Have Answers!
Do you want to learn more about mouthwash and how to properly care for your smile at home? Our Blue Valley Smiles team would love to answer your questions! Please contact us today to schedule an appointment.