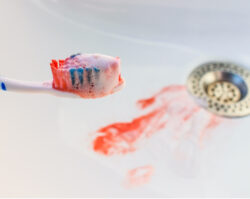 Gum disease is a treatable infection, especially when caught in its early stages. If left to progress for a long time, the infection can still be treated but lasting damage may linger. You can experience gum recession, tooth loss, and jawbone shrinkage that alters the shape of your face.
Here's what you need to know about gum disease and what treatment options are out there!
What Is Gum Disease?
Gum disease is an infection in the gums caused by plaque and tartar buildup as a result of poor oral hygiene. Its earliest stage, called gingivitis, is characterized by inflammation, redness, swelling, and tenderness. More advanced gum disease, known as periodontitis, can cause bleeding gums, receding gums, loose teeth, and halitosis.
Scaling & Root Planing
Scaling and root planing is essentially a deep cleaning treatment for the teeth and gums. Skilled hygienists will remove pesky plaque and tartar buildup from pockets around your teeth and deep under your gums. They will flush out the infected area with an antiseptic to combat the bacteria. They will also smooth the surface of your teeth to encourage your gums to reconnect.
Laser Gum Therapy
For more severe cases of gum disease, laser gum therapy uses advanced technology to remove diseased soft tissue and help stimulate regrowth. Laser gum therapy is a state-of-the-art method for restoring gums and combating infection and tissue loss.
Periodontal Therapy in Overland Park, KS
Are you struggling with painful changes in your gum tissue? You may have gum disease. We recommend seeking treatment as soon as possible to prevent additional pain and irreversible damage to your teeth, gums, and jawbone, and changes to your facial structure.
Our Blue Valley Smiles team is passionate about helping patients regain exceptional gum health with our periodontal therapy services and patient-centered care. Please contact our office today to schedule an appointment!