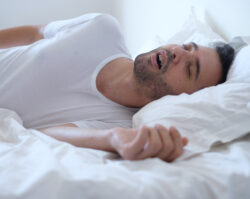 Sleep apnea is a serious sleeping disorder that can wreak havoc on your overall health and quality of life if left untreated! This condition reduces the amount of oxygen that reaches your brain and body as you sleep. Oxygen acts as critical fuel for the cells in our body to function and reproduce.
Types of Sleep Apnea
Central sleep apnea occurs when the brain temporarily stops sending the proper signals to the muscles that control the lungs. This most often occurs when someone is in a deep sleep state. Obstructive sleep apnea happens when the muscles in the back of the throat collapse and obstruct the airway during sleep.
Signs You May Have Sleep Apnea
Do you suspect you may have sleep apnea? Please promptly schedule a sleep study if you are experiencing any of the following signs and symptoms:
Difficulty focusing and remembering things during the day
Excessive daytime sleepiness, even after a full night's rest
Waking up gasping for air during sleep
Loud, persistent snoring
Frequent headaches or migraines
Mood swings, irritability, and depression
Dental Treatment for Sleep Apnea
Did you know that obstructive sleep apnea can be treated at a dentist's office? Dentists receive extensive training on all of the muscles and complexities of the face and neck. In addition to their regular dental training, dentists can complete special courses so they can provide oral appliance therapy as treatment for obstructive sleep apnea.
Sleep apnea appliances are custom, retainer-like trays that patients wear while they sleep. The appliances reposition the jaw to keep the airway open through the night.
Have you been diagnosed with obstructive sleep apnea? Our team at Blue Valley Smiles would love to help you get the good night's sleep you need without an uncomfortable CPAP machine. Please contact our office to book your sleep apnea treatment consultation!