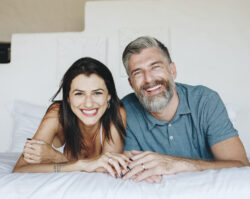 Dental crowns and bridges are two common restorative dentistry treatments that are used to repair damaged or missing teeth. While they share some similarities, there are important differences between the two treatments. Understanding these differences can help you make an informed decision about which option is right for you.
Dental Crowns
A dental crown is a tooth-shaped cap that is placed over a damaged or decayed tooth. It is designed to protect and strengthen the tooth while also improving its appearance. It can also replace a missing tooth when paired with a dental implant. Crowns can be made from a variety of materials, such as porcelain, ceramic, and metal. They are custom-made to fit the specific tooth that needs to be restored, and they are bonded to the tooth using dental cement.
Dental Bridges
A dental bridge, on the other hand, is only used to replace missing teeth. It consists of one or more artificial teeth that are anchored to the surrounding teeth using dental crowns. A bridge can also be anchored with dental implants. Like dental crowns, bridges can be made from a variety of materials, including porcelain, ceramic, and metal. They are custom-made to fit your mouth and to match the color of your existing teeth.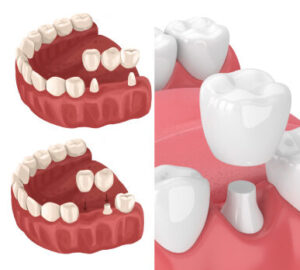 Dental Crowns vs. Dental Bridges
One of the main differences between dental crowns and bridges is the problem they are meant to solve. Crowns are typically used to repair and reinforce a damaged or decayed tooth, while bridges are a cost-effective way to replace missing teeth. Additionally, while a crown only covers one tooth, a bridge can replace multiple missing teeth at once.
To place a dental crown, the damaged or decayed portion of the tooth must be removed and shaped to accommodate the crown. For a bridge, the surrounding teeth must also be prepared by having a portion of their enamel removed to make room for the crowns that will anchor the pontics in place.
The decision of whether to get a dental crown or a bridge will depend on your specific dental needs. At Blue Valley Smiles in Overland Park, KS, our knowledgeable dentists can help you determine which option is best for you based on factors like decay, the strength and appearance of your teeth, and if you are missing teeth.