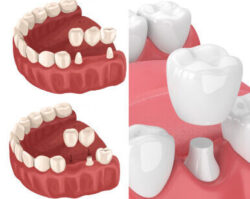 If you have damaged or missing teeth and are considering your restorative treatment options, there's a good chance you've heard about dental crowns and bridges. Both are prosthetic devices that can restore the function and appearance of your smile. However, there are some differences in how we use them at Blue Valley Smiles.
What Are Dental Crowns?
Dental crowns can restore natural teeth that are chipped, broken, fractured, or otherwise damaged. We remove any decay from the natural tooth, shape it into a smaller size, and then fit a custom-created dental crown on top. The crown will act as a protective shield for your compromised natural tooth and restore its appearance while blending in with your other natural teeth.
What Are Dental Bridges?
Dental bridges are used to replace missing teeth. A traditional bridge is made of an artificial tooth sandwiched between two dental crowns that top natural teeth or dental implants. A fixed dental bridge is an affordable and secure way to restore the look and function of several missing natural teeth, especially if you don't want a removable partial denture.
Crowns vs. Bridges: Which Is Better?
The right restorative option depends on the severity of the damage to your teeth. A dental bridge can be a good solution when you're missing one tooth or several teeth or have irreparably damaged teeth that require extraction. When you're dealing with mild to moderate damage to one tooth, a dental crown can often restore your smile.
We'll discuss all of this and more during your consultation for restorative treatment. Please contact us today to schedule an appointment at Blue Valley Smiles in Overland Park, KS! We will design a personalized treatment plan that will help improve your quality of life and boost your confidence. We look forward to hearing from you!
Bridges images from Authority Dental under CC 2.0