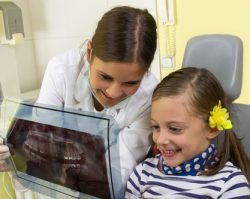 If you caught our blog post about sealants a couple of months ago, you know that these are a great way to help protect your kids' teeth from cavities. In the long run, that saves healthy tooth structure, pain, embarrassment, more involved procedures, and the time and money needed to repair the decay. Often, we can apply sealants to your children's teeth during their checkups. Our dental cleanings for kids in Overland Park accomplish the same goals as our sealants – and so much more.
If your kids haven't come in yet for their back-to-school cleanings, we can get them in soon. Call 913-338-3443 to set up their visits now. They won't even have to miss school with our convenient hours as early as 7:00 a.m. Plus, you can enjoy a beverage and complimentary Wi-Fi while you wait. We're located near several area schools.
Our Children's Dentistry Focuses On Creating A Positive Experience
Maybe you haven't intentionally considered it, but research has shown a strong connection between children's oral health and their level of self-esteem. When you actually see it in writing, that information shouldn't surprise you. Maybe you were one of those children growing up, or perhaps you remember a kid or even an adult who doesn't like to smile because of their dental problems.
Obviously, you want the best for your children and for their health to be as good as possible. So do we! Most of us have our own children, and we absolutely love treating them. We do what we can to make your child's experience at the dentist as comfortable and normal as possible. We don't want them to ever think twice about hesitating to visit the dentist, both now and into adulthood.
Here are just a few ways we keep kids at ease here:
A fun staff who treats them with respect, patiently answers their questions, and provides gentle treatments

Headphones for listening to music or watching TV while we work

A blanket and pillow if they get cold or just want a way to feel more cozy

Technology that takes less time and involves less poking around

A numbing gel that requires no shots and can make their cleanings even more comfortable than our gentle touch offers

Pain-free computer-controlled anesthetic in case we find any cavities that need fillings

Laughing gas

for those who are extremely nervous or have trouble sitting still
Our Children's Dental Checkups Keep Their Smiles Shiny & Healthy
Now you know that we do quite a bit to make sure your children's experiences here are as stress-free as possible! So let's look at what we'll do at their checkups to keep their smile in the best shape possible.
Dental Cleanings

– All biannual

checkups

include thorough yet gentle dental cleanings. Let's face it – kids aren't great at consistently brushing and flossing, and they also miss areas when they do. Add to that their developing tooth enamel that's more susceptible to decay, and you have an ideal scenario for tooth decay. Not to worry. Although cavities are common among kids (half will have one by middle school), regular cleanings help keep them at bay. They'll leave with shiny teeth and a bigger smile as a result.

Dental Exams

– We know exactly what to look for when it comes to dental problems for kids. That includes things like cavities, abnormal tooth development, early orthodontic issues, and even tooth discoloration. We'll keep an eye out for any issues so we can catch them early, when they're easiest, less expensive, and less invasive to treat. Digital X-rays are a big help when it comes to early diagnosis. And many kids like to see inside their mouth on the screen with our intraoral cameras!

Sealants & Fluoride

– We won't rehash the benefits of sealants if you already saw our blog. Similar to sealants, fluoride treatments can fend off bacteria before it has time to develop into plaque, tartar, and cavities. It can even reverse minor decay, and it's completely safe under our supervision.

Metal-Free Fillings

– You're not a bad parent if your child gets a cavity or two. You also don't have to worry about repairing that cavity with a silver filling that will showcase the repair. If we catch cavities, we'll use a tooth-colored filling to repair the damage and keep as much healthy tooth structure intact as possible. We may schedule another appointment to take care of fillings.

Nutritional & Home Care Advice

– We got into dentistry because we want to help people create healthy smiles, which hopefully carries over into healthy bodies too! So don't hesitate to ask about any nutritional or diet changes that can benefit your kids. We're here to answer them! We can also provide great tips on how you can best protect your kids' smiles at home.
You've prepared your child for the school year with all the clothes, school supplies, snacks, and lunches they need for success and confidence. Now make sure you do the same for their smile. Our dental cleanings for kids in Overland Park are a great way to keep their confidence in their appearance high. Bringing them in for routine cleanings also builds a healthy habit that will likely stick with them for life. To schedule their next checkup at Blue Valley Smiles, call 913-338-3443 today. If it's easier, fill out our online form instead.