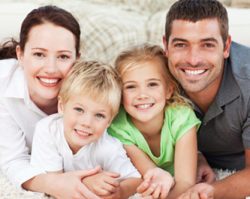 We're inching closer and closer to the first day of school, which means it's time to schedule a dental cleaning and exam for the little scholars in your family!
Along with all the other errands you have over the next few weeks to stock up on clothes and school supplies, make sure to add your family's next dental appointment at Blue Valley Smiles to the list.
That way, you can have peace of mind knowing your kids can head back to school with strong teeth, healthy gums, and sparkling smiles before that first bell rings!
Protect Your Child's Smile This School Year!
Here are a couple of ways your Overland Park dentist can help your kids maintain healthy smiles throughout the new school year:
Prevent Decay & Cavities With Dental Sealants!
An easy step you can take at your child's routine cleanings and exams is to opt for dental sealants. Teeth that are especially vulnerable to decay and cavities, especially with younger children who aren't the most thorough when brushing, need a little extra help warding off bacteria.
That's what a dental sealant does, applied like paint over hard-to-reach back molars so bacteria can't settle into their deep grooves and crevices.
We can also apply fluoride varnish to remineralize their tooth enamel for added protection!
More Teeth-Friendly Tips!
Along with a visit to the dentist for a cleaning, exam, and dental sealants, you can take steps at home to ensure your child has healthy teeth this school year.
First, establish morning and nighttime routines that include brushing and flossing. Even if your family does this already, schedules are different during summer break, and consequently, routines are a bit less consistent. So getting back into the swing of things when school begins is a good way to rededicate everyone in your household to best oral hygiene practices.
Another tip is to pack lunches for your kids that include teeth-friendly foods and drinks like celery and carrot sticks, apples, sandwiches made with whole grain bread, cheese, yogurt, milk, and water.
The proper nutrients, and minimal sugar, in their daily diet will help strengthen their teeth and prevent tooth decay and cavities.
Schedule Your Family's Next Appointment!
It's pretty easy to let the first day of school sneak up on you and your family.
But we hope today's blog was the reminder you needed to look ahead so your child can get a dental cleaning and exam before the first bell rings!
Be sure to ask about dental sealants and other preventive dentistry services we offer as part of our proactive approach to your family's dental care.
To schedule your family's back-to-school dentist appointment at Blue Valley Smiles in Overland Park, KS, call us today at 913-338-3443 or fill out our online form.