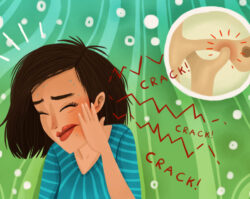 You have two hinge-like joints on your face, one on each side of your jaw. These joints let you open and close your mouth! Many issues with these joints – which are called temporomandibular joints – are classified as temporomandibular disorders or TMD. Millions of people develop TMD, but is it genetic?
TMD May Have a Genetic Link
TMD is a puzzling condition. There are many factors, such as gender and lifestyle, but researchers have not identified the specific causes. Studies suggest there may be a genetic association, and many people who have close relatives with TMJ disorders end up developing TMD, too. You can't control your genetic risk factor, but you can protect your joints by wearing a mouthguard while playing sports, wearing a nightguard if you grind your teeth, avoiding excessive gum chewing, and making sure you don't clench your jaw during the day.
TMD: Common Symptoms
Not all jaw pain is TMJ-related, but it's a good reason to schedule an appointment with a dentist. Other common symptoms include:
Popping or clicking sound when you open your mouth
Pain when you open or close your mouth
Pain in or around your ear
Chronic headaches
Swelling around the jaw
Lockjaw
TMJ Pain Can Be Managed
There are many treatments for TMJ pain. Some are expensive, such as surgery, but many people manage their pain with custom mouthguards, simple stretches, hot and cold compresses, and reduced stress. Custom-made mouthguards, which are available at Blue Valley Smiles, are another great tool. Made to perfectly fit your mouth, they relieve pressure on your jaw and prevent you from grinding your teeth. Sometimes if jaw pain is related to teeth misalignment, orthodontic treatment with Invisalign may provide relief.
Treating TMD at Blue Valley Smiles in Overland Park, KS
The causes of TMD are often mysterious, but if you have a family history of the condition, you're more likely to develop it. We check for signs of TMJ disorders at every exam, and if you have concerns, we're more than happy to help! For an appointment with Dr. O'Neil or Dr. Rondeau, please reach out to us today.
Image from Authority Dental under CC 2.0