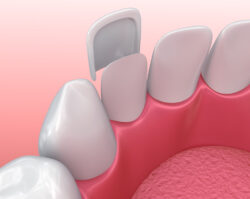 If you want to transform your smile and hide imperfections, veneers are cosmetic solution with natural-looking results. They're made from thin shells that cover the front of your teeth. Veneers are custom-designed to blend in with the rest of your smile and to complement your facial structure.
Dental veneers can improve the size, shape, and color of your teeth. Are you worried if you get veneers, they will look unnaturally white or bulky? At Blue Valley Smiles, we strive to make a patient's veneers look as much like natural teeth as possible. That means making sure the veneers fit your tooth structure perfectly and aren't blindingly white. This is especially important if you're only getting a few veneers placed. We can create a wax model before we put on your veneers so you can see what your new smile will look like.
We Offer 3 Types of Veneers
We offer porcelain, composite, and minimal-prep veneers. Porcelain veneers are the most natural-looking because they have the same translucence as real teeth. They also resist staining! To apply porcelain veneers, we'll need to remove a bit of your tooth enamel so the veneers sit flush against your teeth. This makes porcelain veneers permanent.
Composite veneers, which are often more affordable than porcelain, don't require as much prep. They look natural, but they can stain like natural teeth. Minimal-prep veneers, which are the thinnest type of veneer, require the least amount of tooth prep. In some cases, we may not need to remove any tooth enamel.
How to Take Care of Veneers
Keep brushing, flossing, and visiting the dentist for routine cleanings at least every six months. Be careful when eating hard, crunchy foods and don't chew ice. Veneers are strong, but they're not unbreakable. When you take care of your veneers, they can last for decades before you need to replace them.
Natural-Looking Veneers in Overland Park, KS
If you've always wanted the perfect smile, veneers are the best way to make that dream come true. These thin shells can reshape teeth, close gaps, and hide chips and deep stains. During a consultation, our team will discuss your goals so we can design your ideal smile. We will make sure your veneers look as natural as possible. If you have questions or are ready to get started, please contact us today!