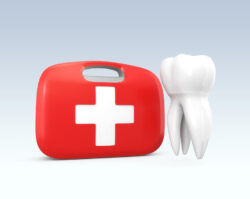 We all know that regular dentist visits and good oral hygiene are essential when it comes to preventing unwanted dental problems. But sometimes, no matter how hard we try to avoid unexpected trips to the dentist, accidents happen. In those cases, you might ask yourself, "Is this really an emergency?" Let's break it down so you know when to seek urgent dental care.
Knocked-Out Tooth

This is probably the most obvious case of a dental emergency. If you knock out a tooth, call the dentist immediately. We will talk you through the next steps, which include trying to locate the lost tooth. Handle the tooth with care, avoiding the root, and place it in a small container of milk to keep it moist. With swift action, there is a chance that the tooth can be saved.

Severe Tooth Pain

If you're experiencing intense, persistent tooth pain, it could be a sign of an underlying infection. Don't tough it out—seek emergency dental care to address the pain and prevent further complications.

Broken Tooth

A chipped, cracked, or broken tooth isn't always an emergency, but if it's causing extreme pain or is visibly damaged, we advise getting it checked out ASAP. Your dentist can assess the damage and recommend a treatment plan.

Swollen or Bleeding Gums

If your gums are swollen or won't stop bleeding, try applying gentle pressure with a cold compress. If that doesn't help, call your dentist for guidance and consider seeking urgent care.

Dental Abscess

A dental abscess is a small pocket of pus that sometimes looks like a small, swollen bump on your gumline, accompanied by sensitivity to hot and cold foods and continuous tooth pain. Patients with a dental abscess should get to an emergency dentist immediately to treat the pain and prevent the infection from spreading.
In those unfortunate situations when emergency dental care is required, Blue Valley Smiles is here to help. We know that accidents can happen at inconvenient times, so we always keep a doctor on-call to handle emergencies outside of regular office hours. We offer same-day appointments, sedation options, and a wide variety of emergency treatments.