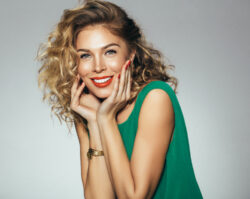 Have you heard the term smile makeover but aren't quite sure what it means? A smile makeover is a cosmetic dental treatment or a combination of treatments that are geared towards helping enhance the appearance of your smile. There are a variety of cosmetic dental treatments to tackle a wide range of aesthetic dental concerns. Keep reading to learn more about what a smile makeover can do for you!
Look & Feel Your Best
Your smile's health is important and so is its appearance. Smiles are the first thing many people notice about others, so making a great smile impression can go a long way! You deserve to have a smile that you feel comfortable and confident behind. There are many cosmetic enhancements both small and large that can have a positive impact on your smile and self-esteem.
Types of Cosmetic Dental Treatments
There are cosmetic treatments to tackle every aesthetic tooth imperfection you can imagine. Some common cosmetic dental treatments include:
Dental Bonding – Dental bonding can fix cracked or chipped teeth to restore a tooth's appearance. It can also be utilized to lengthen teeth.
Gum Recontouring – If you have a "gummy smile," laser gum therapy can help reshape your gums to lengthen the look of your teeth.
Invisalign® – Invisalign clear aligner therapy is a comfortable orthodontic treatment that can discreetly straighten your teeth with smooth, clear trays.
Teeth Whitening – Professional teeth whitening can lighten your teeth up to eight shades to brighten and enhance your smile.
Veneers – Veneers are porcelain shells that cover the front side of teeth. They can completely transform your smile's appearance!
Make Over Your Smile!
Are you ready to get the smile of your dreams? At Blue Valley Smiles, we proudly offer a full suite of cosmetic dentistry services. Our team will work one-on-one with you to help target and correct your smile insecurities. Contact our office to get started on your smile makeover journey today!