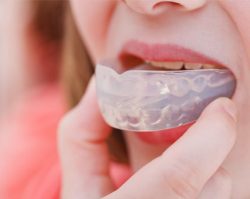 School sports will be gearing up before you know it. Obviously, you will want to do all that you can to protect your child's teeth and gums from any dental damage that could potentially occur without warning during these activities. As such, you should have your children fitted for athletic mouthguards right away.
Your custom-designed sports guards will help your young athletes breathe better and speak more clearly, and they feel more natural while in place, have enhanced durability, plenty of strength, and lots of protection when compared to the store-bought mouthguards that you boil and bite for an approximate fit.
The video clip below contains more details about mouthguards. Take a look and then be sure to call Blue Valley Smiles in Overland Park, KS today at 913-338-3443 or fill out our online form to schedule your preventive dentistry appointment.