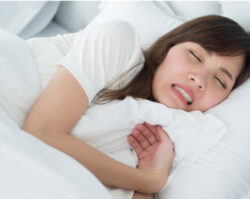 Waking up with a sore jaw or a dull headache can be an unpleasant start to your day. If you frequently experience these symptoms, it's possible you may grind your teeth in your sleep. Teeth grinding, also known as bruxism, is a common condition that affects many people without them even realizing it.
Signs of Teeth Grinding
Do you want to know if you grind your teeth in your sleep? Check out these common signs!
Jaw Pain or Tightness

If you wake up with aching or tightness in your jaw muscles, it could be a result of grinding your teeth. The excessive force exerted during teeth grinding can strain the muscles surrounding your jaw.

Tooth Sensitivity

Grinding your teeth can cause the protective layer of enamel to wear down, making your teeth more sensitive to hot, cold, or sweet foods and beverages. If you notice increased tooth sensitivity, especially without any other apparent cause, it may be worth investigating.

Headaches

The constant grinding and clenching motion can lead to tension headaches. If you frequently wake up with headaches that seem to originate from your temples or the back of your head, teeth grinding could be the culprit.

Worn or Damaged Teeth

Over time, the pressure and friction of grinding can wear down your teeth or dental restorations, causing them to become flat or chipped. If you notice any unusual changes to the shape or surface of your teeth, it's best to get them fixed.

Disrupted Sleep PatternsDo you wake up frequently throughout the night without any other apparent cause? It could be due to the discomfort caused by bruxism.
Start Treatment for Teeth Grinding in Overland Park, Kansas
Did you cross off any of these signs? It's crucial to reach out to our dentists in Overland Park, Kansas. Dr. O'Neil and Dr. Rondeau can examine your teeth and jaw and recommend effective treatment options!