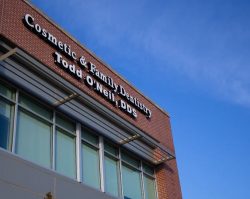 We hope that you are looking forward to the upcoming holiday season. For some folks we realize that there is less to get excited about this year when it comes to getting together with friends and family and eating a big meal. If tooth loss as an adult has left you with a "new normal" that has completely undermined your quality of life, we can help you turn things around quickly with the help of dental implants. Let's talk soon about our great restorative dentistry solutions for replacing missing teeth so that we can get you back to smiling big, speaking clearly, and eating whatever you want. Keep reading to hear more about what we can do for you, and then be sure to call us at 913-338-3443. The team at our Overland Park, KS dentist's office stands ready to book your consultation with Dr. O'Neil or Dr. Rondeau.
Dental Implants For A Better Life
If you have lost any of your natural teeth, you already know that your confidence is likely suffering, along with your appearance, and overall health. It won't make for a very sustainable situation. And it only gets worse as time goes on.
The good news is that you don't have to put up with such a fate any longer. We have the training and technology to take back your life once and for all. As it happens, Dr. Meagan Rondeau is a fellow in the International Congress of Oral Implantologists! Thanks to her expertise as well as Dr. O'Neil's extensive background in implant restoration, we can both place and restore implants in-house, so you can get your entire dental implants procedure right here at our comfortable office. That will save you time, money, and undue anxiety since we won't have to outsource any part of the treatment.
Just so you know, our dental implants are made from titanium. It is stable and durable, and importantly, this is a material that naturally merges with the jawbone providing an anchor. Once the implant has been placed and had time to be healed, it can then be restored with a single crown, bridge, or even dentures. If you do opt for dentures, you can trust that there won't be any slipping and sliding, or other embarrassing moments for you.
Call To Request That Consultation
We hope that you have been inspired to take the next step to a more complete smile and a life that feels more whole. We know that you will still have plenty of questions for us, which is why we'd love to see you soon for a dental implants consultation session. Call us today at 913-251-9202 to request an appointment in Overland Park KS. We'll get you back on track, and help you to stay there!