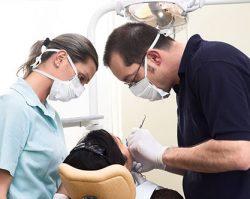 We hope you're enjoying our newly redesigned website and will find it easier than before to find the information you need regarding your family's dental care. One place we'll share information that we hope you'll find useful is here in our blog. In addition to our services, we'll write about dental trends and provide tips to help you keep your teeth in top shape.
If you have any questions about what you read in our blog, or anything else, call us at 913-338-3443.
We're kicking off our new blog by highlighting some of the things our patients tell us they appreciate about our practice. We're proud that 99 percent of our patients say they'd refer their family or friends to us.
Enjoy a Bright Smile on Us
We don't know anyone who doesn't want a bright, white smile. We make it easy to keep your smile looking great with free Whitening for Life for our patients. As long as you remain a patient with us, you'll receive complimentary professional-strength whitening treatments you can use at home to maintain a white smile.
Find Many Dental Implant Services
Our dentists both place and restore dental implants. They also perform just about any implant procedure you can think of. While a growing number of dentists offer dental implants, they don't all have credentials that show their expertise. Our Dr. Meagan Rondeau is a Fellow in the International Congress of Oral Implantologists.
We've Got Sedation for Every Level of Anxiety
While many dentists offer just one or two forms of sedation, you can choose from three kinds of sedation at Blue Valley Smiles. So no matter what treatment you're getting, there's no need to feel nervous! In addition to easing anxiety, our sedation helps overcome a sensitive gag reflex and just makes it easier to remain relaxed throughout a lengthy procedure. You can choose from inhaled sedation ("laughing gas"), an oral sedative, or conscious IV sedation.
For dental care tips in Overland Park or to make an appointment with us, call 913-338-3443.