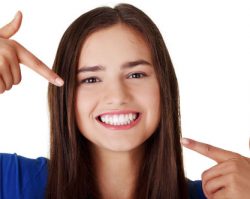 What better time to start fresh than at the beginning of a new year? At Blue Valley Smiles in Overland Park, KS, , we can help you transform your smile so you can start the year feeling like a new person. There are many reasons to consider a smile makeover. In addition to improving your quality of life, our patients have found that a smile makeover can:
Whiten and brighten your teeth

Straighten your crooked or crowded teeth

Fix your gummy smile

Resize teeth that appear too small or too large

Replace missing teeth or fill in gaps

Boost your self-confidence
We actually offer several services that can transform your smile, giving you a "drab to fab" makeover. If you are ready to start the new year with a brand-new smile, continue reading to learn more about what our services can do for you and then call 913-338-3443 to request your cosmetic consultation with our team.
Veneers
Think of veneers as fake nails for your teeth. But unlike fake nails, our veneers are made to look like real teeth and last for years. Veneers are thin shells, typically made of porcelain, that are adhered to the front of your teeth.
Veneers are an excellent solution for patients who are embarrassed by chipped, discolored, worn down, or misshapen teeth. With veneers, we can restore your smile and give you a reason to smile with confidence.
Dental Crowns
Dental crowns are another smile solution that can have a dramatic impact on your teeth. At Blue Valley Smiles, we use dental crowns for cosmetic and oral health-related purposes. With dental crowns, we can make your teeth whiter, stronger, and better looking.
Dental crowns are similar to dental veneers in that they improve the appearance of your teeth. But while a veneer covers the outer area of the tooth, a crown completely covers the tooth above the gum line. This non-invasive technique is an excellent option for many patients.
Teeth Whitening
One of the most popular cosmetic dental procedures is teeth whitening. This simple and safe option is a great solution for patients who are embarrassed by their yellow or discolored teeth.
While there are plenty of at-home teeth whitening kits available, none of them will have the same effect as our professional teeth whitening solution. We can whiten your teeth by several shades in no time at all, giving you the whiter, brighter smile you have been wanting.
Dental Bonding
Dental bonding is another tool available for patients who want to start the year with a new, better-looking smile. With dental bonding, we use a composite material that repairs surface damage or discoloration. In some cases, bonding can be used instead of a veneer to give teeth a stronger, whiter coating.
To learn more about your smile makeover options, call Blue Valley Smiles today at 913-338-3443 to schedule a consultation. During your appointment, we can discuss any concerns you may have about your teeth and which of our services can give you a smile you deserve. Contact us today!