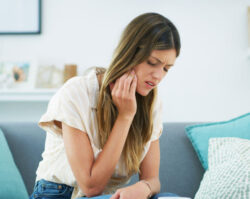 If you start to feel something unusual in your body, maybe a bit of pain, it can be tempting to push it aside and hope that the feeling just goes away. Maybe you feel like you're too busy to get it checked out, or perhaps you're worried that it's actually something serious. As overwhelming as it can feel sometimes to seek medical care, we strongly urge you to listen to your body and see the right healthcare professional so they can evaluate what's going on.
When it comes to dental pain specifically, here are some reasons why you should visit the dentist if you're having pain:
Professional Evaluation & Treatment
Your first reaction to a bit of discomfort in your tooth may be to hop online to try and diagnose yourself. This can lead to a false diagnosis that can either cause you to do more or less than you need to. The fact is, dental pain can be a symptom of many different things. It could mean that you have a cavity or it could mean that your wisdom teeth are coming in. It could also be a sign of a serious infection. For the untrained eye and without the proper diagnostic equipment, dental issues can be difficult to diagnose. Save yourself the trouble and let a dentist you trust see what's going on so you get the right answers from the get-go.
Waiting Can Make Things Worse!
The sooner you get a dental issue diagnosed and treated, the better it'll be for your health. Many times, dental problems don't just go away with time. They often just get worse. That means that they can take longer and more money to fix. You may also have to deal with more discomfort for an extended period of time. It's better to handle problems as soon as possible so they don't end up causing additional and/or more serious issues.
If you're experiencing dental pain, book an appointment at Blue Valley Smiles. We provide comprehensive dental services, as well as emergency dental care, at our practice in Overland Park. We can create a customized solution depending on your needs. Contact us today so you can get answers and find relief as soon as possible!