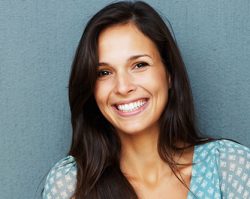 Now is the time when many people across the country are planning their annual summer vacations. Maybe you fall into this category yourself and are busy shopping for clothes, shoes, and accessories to take along on your trip.
However, don't forget about one of your best accessories – a beautiful smile. That's right, it's possible for you to take a gorgeous smile with you, even if it's not so beautiful right now. Dr. O'Neil and the expert team at Blue Valley Smiles have many different cosmetic dentistry treatments that can get your smile into the best shape possible.
When you come in for your consultation, we'll detail all of your options, but in the meantime, we've listed a few of our most popular treatments below. As always, if you have any questions or if you'd like to make an appointment, just give us a call at 913-338-3443.
Transform Your Smile With Dental Veneers
Dental veneers are sometimes called "instant orthodontics" because they can make a dramatic improvement in your smile in a short period of time. Celebrities and other high-profile individuals often use veneers to give them radiant new smiles.
Veneers are thin shells of tooth-colored material that our dentist will bond to the front of imperfect teeth to hide their flaws and give you a more beautiful look. Veneers are fantastic at concealing teeth chips, cracks, gaps, stains, and general wear and tear.
Usually, it takes just two appointments to get your new veneers. That means you could have the smile you've been dreaming about in record time! You can trust our experienced dental team to come through when you need a new smile for your vacation.
Teeth Whitening Treatment Will Brighten Your Teeth
Your smile is one of the first things that people will judge you on – like it or not. In fact, a recent survey found that 45 percent of people believe that a smile is a person's best feature, no matter their age.
If your teeth are a dull yellow or gray color, your smile isn't giving the world the impression you want it to! But you can do something about it with our teeth whitening treatment. We give you two great options for getting a whiter, brighter smile.
For the fastest, most dramatic results, choose in-office treatment. In a matter of minutes, we can whiten your teeth by several shades. Walk in with a dingy smile and walk out with gleaming teeth that tell the world you're successful.
If you want more convenience, then we can provide you with a professional-strength whitening kit you can use at home whenever you like. Whiten your teeth while lounging around in your PJs, watching TV, or even soaking in the tub.
Either of our whitening options will be quicker and safer than over-the-counter kits, plus you'll always have our skilled team ready to answer any questions you have. As a special bonus for our patients, if you continue to come in for your regular checkups, we'll even give you "whitening for life." Ask one of our team members for all the details.
Repair Your Smile Using Dental Bonding
In just one easy appointment, our team can repair your smile with composite resin, the same sturdy material that we use for tooth-colored fillings. Our dentist will carefully sculpt this material into place then use a special light to instantly cure and harden it.
Dental bonding is a great service for fixing minor smile flaws like chips, gaps, deep stains, worn teeth, and misshapen teeth. It is also one of our most budget-friendly treatments. Plus, the composite will stay in place for several years without needing any special care or cleaning. Just brush and floss like you normally would.
Gum Reshaping Can Beautify Your Gums
Perhaps you have what's known as a "gummy smile." That's when too much of your gums show when smiling. Don't worry if that describes you – we have a treatment that can help. Using a safe and gentle laser, our dentist will carefully remove excess gum tissue to balance out your teeth-to-gum ratio.
The result is that you'll have a much more beautiful smile. People will notice your teeth rather than your gums, perhaps for the first time in a long time. You'll have more confidence and you'll feel bolder about speaking up in public without hiding your smile.
Ask Us About Other Treatments, Too
We other cosmetic treatments that can help you get your smile vacation-ready. To smooth out and even up your smile line, there's teeth contouring. We'll use special tools to remove a small amount of enamel and make your teeth more appealing.
If you have teeth that appear too short, our crown lengthening treatment will allow more of the crown (white part) of your teeth to show. Your smile will appear healthier and more robust.
No matter what kind of cosmetic treatments you need to get your smile ready for vacation, you'll find it at Blue Valley Smiles. Call us today at 913-338-3443 to schedule your consultation. You can also request an appointment online. Don't take a drab smile on vacation with you!