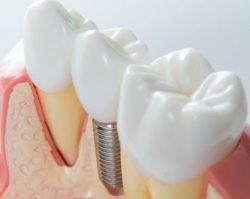 When tooth loss strikes in your adult years, it will leave unnatural gaps in your smile. And your cheeks will cave-in as your jawbone recedes. Your self-confidence will disappear as fast as your youthful looks. But, believe it or not, it actually gets worse. Living without several teeth, or being entirely without teeth, will force you to alter your eating habits as you won't be able to chew all the fiber-rich foods that keep you healthy. Sounds pretty bleak, right? There is some good news for anyone experiencing this bad situation, however. We can help you turn things around quickly with the help of dental implants.
Keep reading to hear more about what we can do for you, and then be sure to call us at 913-338-3443. The first step in replacing your teeth with dental implants at our Overland Park, KS office is a consultation with Dr. O'Neil or Dr. Rondeau.
Dental Implants Can Change Your Life
We are proud to say that our own Dr. Meagan Rondeau is a fellow in the International Congress of Oral Implantologists. Thanks to her unique expertise as well as Dr. O'Neil's extensive background in implant restoration, we can both place and restore implants in-house, so you can get your entire dental implants procedure right here at our comfortable office.
Your natural smile is worth protecting at all costs. Those teeth are going to be the best teeth you'll ever have. Still, you can recover the majority of your original look and biting power after you've lost teeth. But this is really only possible with modern dental implants.
Our dental implants are made from titanium. It is strong and durable, but more importantly, this is a material that naturally merges with the jawbone providing an anchor of sorts. Once the implant has been placed and had time to be healed, it can then be restored with a single crown, bridge, or even dentures. If you do opt for dentures, you can rest assured knowing that there won't be any slipping and sliding, or other embarrassing moments related to poor fit.
Let's be honest, dental implants are more expensive than old-school dentures or dental bridges, which is why they aren't for everyone. But it is hard to put a price tag on quality of life or years added to a life. And having a complete set of teeth will boost your appearance, along with your confidence.
Take Back What's Been Missing
We hope that you have been inspired to take back what's been missing. And we aren't merely talking about teeth. We expect that you will still have plenty of questions for us, which is why we'd love to see you for a dental implants consultation. Call us today at 913-338-3443 to request an appointment in Overland Park KS. We'll get you smiling big again in no time!