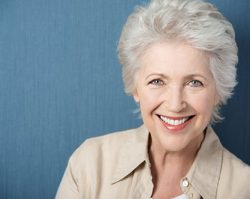 Your body goes through a lot of changes as you get older. It's a natural part of life and is nothing to be ashamed of or embarrassed about. However, it's important to be aware of what's coming so that you can better prepare for and potentially prevent health issues before they occur.
As you get older, you are more likely to experience additional oral health issues. Learn more about each problem and what you can do to prevent them. Keep in mind that our friendly and experienced team at Blue Valley Smiles of Overland Park, KS will help in any way we can to treat these problems, should any of them arise. When you are finished reading today's post, be sure to give us a call at 913-338-3443 to schedule an appointment!
Gum Disease
Gum disease can happen to anyone at any age, but older adults are more likely to develop it. If not treated properly, it is a condition that can lead to serious infection. It has also been linked to other serious health problems like heart disease.
To help prevent gum disease, a strong dental hygiene routine is essential. Make sure you continue to brush your teeth at least twice a day, floss daily, and possibly rinse with mouthwash to prevent this dangerous condition. See your dentist every six months for a checkup. If you are concerned about the condition of your teeth or believe you may have developed gum disease, call us as soon as possible to schedule an appointment.
Tooth Discoloration
People of all ages are at risk for tooth discoloration. Certain foods, drinks, and lifestyle habits make our teeth more susceptible to staining. As you age, the enamel on your teeth tends to wear thin, making your teeth look more yellow.
If you have noticed discoloration on your teeth, call our family dentistry office to see what you can do to improve their appearance. Over-the-counter whitening products can help some stains, but only a professional treatment with a cosmetic dentist can take care of deeply rooted stains.
Oral Cancer
Getting older also puts you at a higher risk of oral cancer. Smokers are especially susceptible to oral cancer.
If you notice a sore in your mouth that doesn't improve, make an appointment with us as soon as possible. Otherwise, keep up with your regular checkups so we can perform a routine oral cancer screening each time. Prevention and early detection are important.
Dry Mouth
Another common oral health problem among older adults is dry mouth. Not only is this condition annoying, but it can lead to other, more serious health problems.
In many cases, dry mouth is a side effect of medications, but other factors have been known to affect saliva production. Saliva is important because it helps protect your teeth and washes away debris, so if you aren't producing enough of it is, we need to figure out why.
Schedule Your Next Checkup Today
When is the last time you saw your dentist for a checkup? If it's been more than six months, you are overdue for an appointment. Call Blue Valley Smiles of Overland Park, KS today at 913-338-3443 to schedule a checkup and cleaning.