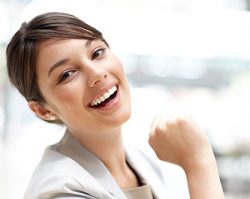 You may want a straighter, more uniform smile but just can't picture yourself wearing metal braces for 2-3 years. That's where we come in. Our Overland Park, KS dental team can easily set you up with an innovative orthodontic treatment, it's known as the Invisalign clear aligners program.
Please read on to learn more about the big benefits of clear aligners. When you are finished, give us a call at 913-338-3443, to take the next step toward a healthier, better-looking smile.
1. You Fly Under The Radar With Aligners!
Don't worry, if you are already paranoid about people looking at the mess in your mouth, you won't be getting any extra attention on account of your treatment. You see, with Invisalign there isn't any metal involved whatsoever. That's because this orthodontic treatment makes use of clear (virtually invisible) plastic aligners to move your teeth into proper positioning. It will be up to you to tell whomever you please.
2. Your Aligners Are Not Permanently Installed!
After metal braces go in your mouth, there is no escape from them, until your treatment is completed after several years. Invisalign aligners won't pose such a problem. You can take them out for eating, cleaning, and any other time that makes sense. You do need to wear them for 20+ hours each day in order to stay on track. But having the flexibility is priceless.
3. Your Lifestyle Can Remain The Same!
You won't have to invest time in getting in-office orthodontic adjustments each month. Rather, you manage the progress by switching out your aligners for the next ones in the series (every two weeks or so). This can be done from the convenience of your own home, on your own time table.
Plus, you won't need to keep weird tools around, or waste time shopping for food that doesn't get stuck in your metal wires and brackets. None of those problems will be yours to have to work through.
4. There Is No Discomfort!
Even if we can still admit that there is some value in old-style braces for some folks, no one ever really becomes used to the harsh feel of metal in the mouth. Lucky for you, if you are a good candidate for Invisalign, the aligners won't cause pain the way that traditional braces often do. They are more like a mouthguard in the way that they rest comfortably over your teeth. So, you won't need to rely on waxes to form a protective barrier over your soft tissues. With your soft gear there won't be any bleeding, sores, or discomfort to address.
5. The Transformation Happens Fast!
With Invisalign, you won't have to wait 2-3 long years because you will see results in only about 12 months time. Obviously the time for completion varies with the individual situation. But this is going to be faster than braces regardless!
Call To Get Started On Your New Smile!
Ready to see if Invisalign clear aligners are the best plan for you? Call Blue Valley Smiles in Overland Park, KS today at 913-251-9449 or fill out our online form to schedule an appointment.