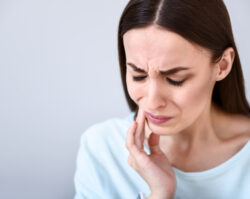 Does brushing your teeth, eating ice cream, or sipping hot coffee make you wince on occasion because of tooth pain? This is because your enamel, the outer protective layer of your teeth, is thin. Weak enamel allows the nerve endings inside your teeth to become more easily irritated by pressure and temperature. Here are a few ways to help reduce your tooth sensitivity:
Use Desensitizing Toothpaste
There are special toothpaste formulations designed to help reduce tooth sensitivity. These toothpastes contain ingredients such as potassium nitrate that block the nerve endings in the teeth. Additionally, fluoride in these toothpastes help strengthen tooth enamel and fortify it against erosion and damage.
Minimize Acidic and Sugary Foods and Drinks
Acidic and sugary foods and drinks can wear down your tooth enamel, making your teeth more sensitive. Try to limit your consumption of these types of foods and drinks, such as orange juice, soda, energy drinks, coffee and lattes. If you do indulge, rinse your mouth with water after consuming them to wash away the acid in your mouth.
Maintain Good Oral Hygiene
Bacteria produce acidic byproducts that erode enamel and irritate gums. Thus, one of the most effective ways to prevent and reduce tooth sensitivity is to maintain good oral hygiene. Brush your teeth twice a day with a soft-bristled toothbrush and fluoride toothpaste. Remember to brush your tongue too! Floss at least once a day to remove plaque and food particles from between your teeth.
Relief for Sensitive Teeth at Blue Valley Smiles
We also recommend visiting Blue Valley Smiles for regular exams and cleanings! These visits allow our team to identify any underlying dental problems and offer solutions to give you relief. So if you notice any tooth sensitivity, contact us today to schedule a dental appointment at our office in Overland Park! We look forward to caring for your smile.